Cook4Luv is a dating service that unlocks after achieving a two-star restaurant.
Once the player achieves a two-star restaurant, they will receive an email prompting the choice to either date men or date women (this can be changed at anytime in the Options menu).
Every few days the player will randomly receive a Cook4Luv email with a candidate that favors a specific food. If the player accepts to "date " them, the candidate will appear sometime during the day to order their designated food (the player MUST have the designated food on their active menu for that day).
After the candidate leaves, the player will receive a phone call from them sometime later in the day to engage in a text conversation. The player must make the right choices in replying, but doing so locks the player out of doing any cooking or chores until the conversation is over.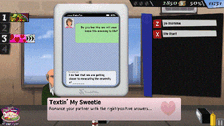 [1]
Both how well their order was done and making the correct choices during the text conversation will determine whether the relationship continues. The candidate will return every couple of days to order their favorite food and phone text, with the candidate giving the player Golden Tickets if the relationship concludes successfully. Otherwise, the candidate will call off the relationship and leave the player with nothing. However, they will be returned to the candidate pool for the player to try to date again at a later time.
Food and Candidates
Edit
Below is a table of possible foods and their corresponding candidates. Successfully dating each of the six candidates (by their favorite food, can be either gender) will be required for "The Love Chef" Achievement.
| Food | Men | Women |
| --- | --- | --- |
| Baked Potatoes | | Melissa |
| Burgers | Mike | Melanie |
| French Fries | | Hailey |
| Lasagna | Sam | Sara |
| Nachoes | | Megan |
| Soups | | Jane |
References
Edit
[1]